there are two holes in my assortment of bikes - 1 something i can ride over distance and 2 something i can hoon and just have good fun on ... These are 2 holes that have become apparent that i have not been racing so much and more riding for fun and enjoyment -i still enjoy riding long distances but i dont want to be full on flat backed head down arse up and uncomfy.
26inch wheels suck for distance - its all about the 29er , angle of attack is shallower and you feel less of the bumps - this i have proven to my self with a 400 quid gary fisher rig experiment - it then became my most ridden bike !
Bike number 1 - Ragley TD-1
Not only because my initials are T and D but because last year i was looking into having a custom made frame built up to my specs with 29 inch wheels , rohloff specific drop out , a nice low front end and ability to carry luggage. Then Brant came out with this bike. Im the first to admit ive not always seen eye to eye on some of Brants previous and even some of his current designs but thats why he is the designer and im just a rider. He certainly looks outside the box.
going for a cross between
&
Ade Wards (1st photo) look with forks similar to that of twinkly dave (2nd photo) - and i do prefer daves silver seat pin too
mines how ever is having a rohloff stuck in the rear end . XTR cranks , Stans arch rims , a brooks swallow Ti saddle , hope race x2 brakes , hope seat pin , headset , ceramic BB , front hub. ITs the first bike ive just built purely based on performance of the bits without too much consideration to the price - ive not just got wreckless - nothing is specified unless i think it will perform to the maximum. I could quite easily specifiy this bike with much lighter kit but the risk of it failing and leaving me in a hard spot is quite high !

Bike number 2 -Surly pugsley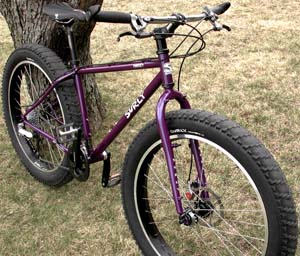 Two reasons - i live in an area with alot of soft woodland trails, an area thats prone to lots of snow and could leave me unable to ride about the place for 3 months of the year. The main reason though is that stick in a bit more psi and you can have lots of fun hooning the downhills and rolling over stuff that would stop a normal bike .....